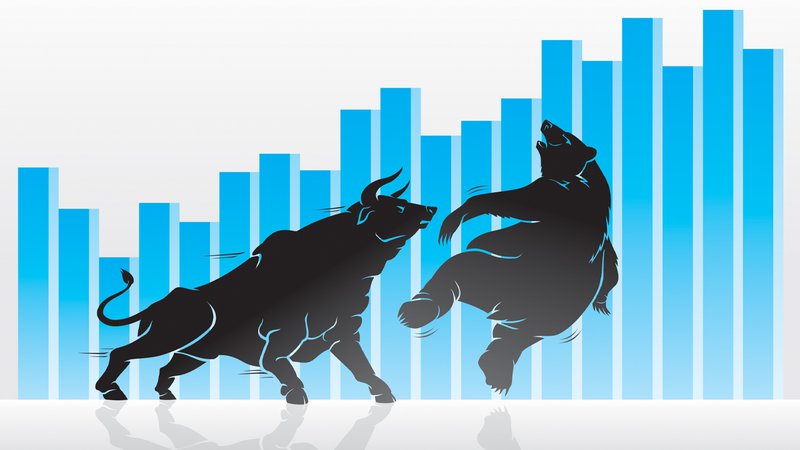 It's the first time in 14 years that India's credit rating has been upgraded by an international agency of repute. Moody's upgraded India's sovereign rating from the lowest investment grade of Baa3 to Baa2. It has also changed the outlook from stable to positive. It is on the expectation that continued progress on economic and institutional reforms will, over time, enhance India's high growth potential. A rating upgrade for India would likely boost capital flows into the country because a large part of institutional capital allocation is ratings-driven. However, the International ratings agency S&P Global & Fitch Ratings has kept India's rating unchanged at BBB-. The outlook has also been maintained at stable, indicating no change in the rating agency's view on India.
On the flip side, the rating agency has warned that if fiscal metrics and the outlook for government fiscal consolidation weakens, then the ratings can be downgraded again. The rating could also face downward pressure if the health of the banking system deteriorates significantly. This means that India needs to keep the momentum of growth, and allow banking system should be regulated to keep NPA at lower levels.

On the political stance, the next big event which market participants are watching out is the outcome of the state elections in Gujarat and Himachal Pradesh. Gujarat has a large business community, which has been impacted by demonetization and GST. So, this election will be a test of the popularity of Modi's reforms. Any negative surprise or hint of loss of momentum and popularity could have some adverse impact on Indian markets.

Overall, the higher fiscal deficit is a worry with oil prices moving up and inflation pressure increasing. India would have to address its weak fiscal balance sheet. Rating agencies are also expecting the improvement in terms of numbers. On the other hand, Gujarat elections outcome will be taken as a sample of Modi's popularity and may impact short-term market sentiments.

MACRO ECONOMIC TRENDS
Kindly refer to the below graphs for a summary of major macro-economic parameters and their respective trends: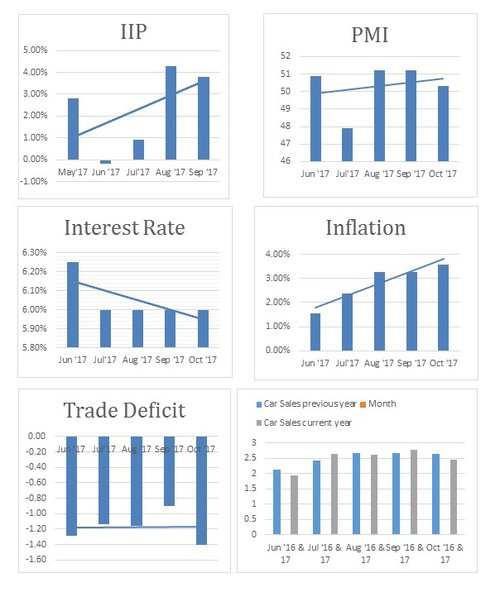 SENSEX VALUATION & CORPORATE EARNING TREND

The markets are over-valued right now and are not supported by the fundamentals. 

*As on 30th Nov 2017; historical data of Sensex and Nifty Mid Cap 100 is of last 10 years.

CORPORATE EARNINGS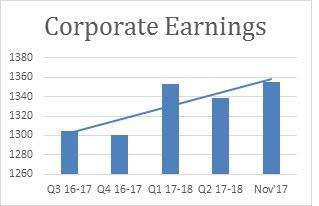 Overall trend of corporate earnings seems to be almost flat from past few quarters.