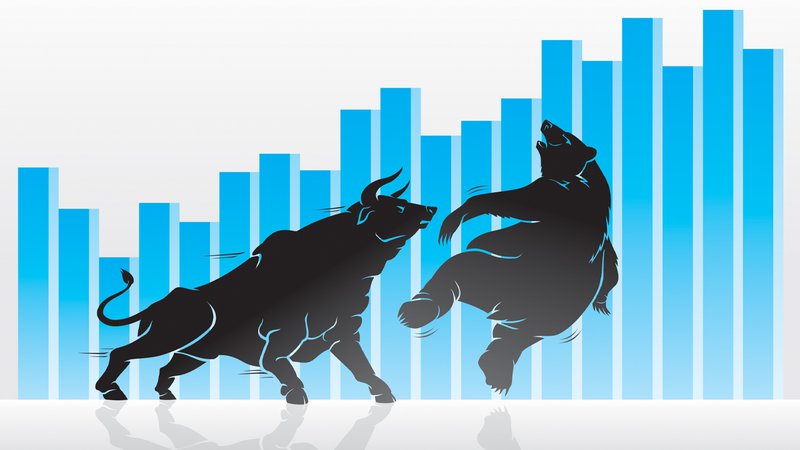 Indian Equity markets have started witnessing the downward movement. Recently, the Sensex has dropped by almost 3000 points, which is an overall correction of around 10%. The correction is much deeper in mid and small caps. They are down 15% to 20% from their recent peaks. Recent correction may not be good for short term traders, but may turn out to be a boon for long term investors since the valuations have become much more reasonable now. 
It is not only our markets that are witnessing a correction, in-fact most of the global stock markets of the world have seen a correction of 10% to 15% in the past 2 months. One of the major reasons for global correction has been the rising interest rates in the US and in most parts of the developed world. On one hand, it indicates increasing GDP growth rates which should boost companies. However, on the other hand, it increases cost of capital for companies. 
Globally,  one of the upcoming potential threat will be the risk of U.S. steel & aluminium tariffs. US President Trump has proposed to charge 25% import duty on steel and 10% on aluminium in the guise of protecting U.S. national security. However, many economists believe that such tariffs are likely to backfire and is not a prudent economic decision.  It could also set off a trade war that could potential cause global volatility for short to medium term.

Domestically, on the positive side, the corporate earnings for this quarter have been better than expected. The EPS growth rates for this quarter were in the range of 12-14%. If this earning growth momentum can be sustained for next 2-3 quarters, valuations will become even more reasonable and stock market more lucrative for the long run. There is a good probability of earnings momentum to pick up domestically given the pain of demonetisation and GST is now behind us.

From your asset allocation perspective, we have managed your investments prudently so far and taken very little or no exposure to the risky mid and small cap category. We will continue to watch the market events like hawks and give exposure to you in these risky but lucrative asset class at the right opportune time. 
To summarize, given the current negative news flows and upcoming state elections of Karnataka, MP, Rajasthan etc. there is a medium to high probability that this correction may continue for a while.  Every downfall is a good buying opportunity for the long term investor. So, we will continue to find good pockets of investments for you to help you achieve your long term financial goals. We will ride this volatile phase together.

MACRO ECONOMIC TRENDS
Kindly refer to the below graphs for a summary of major macro-economic parameters and their respective trends:
PMI : PMI India fell to 51.2 this month from 52.4 last month. This is less than the market expectation of 52.8. It is pointing to a weakest expansion in the manufacturing sector since Oct 2017.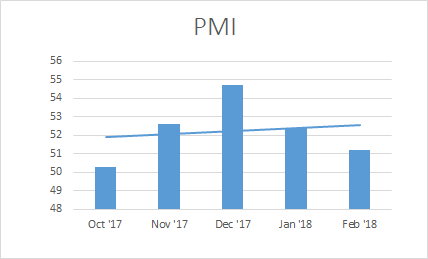 INFLATION :  
Inflation in India has increased 4.44% y-o-y this month. However, it is below the market expectations of 4.8% which is a positive sign. Also it is the lowest rate since 4 months.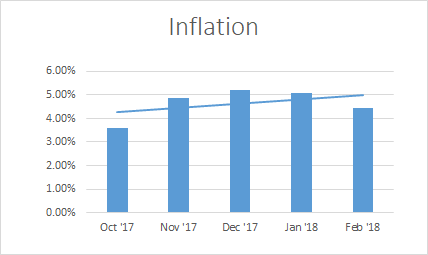 TRADE DEFICIT : Trade deficit has widened to $11.9 billion in Feb'18 as compared to $9.5 billion a year earlier. It is also below the market expectations of $14.3 billion.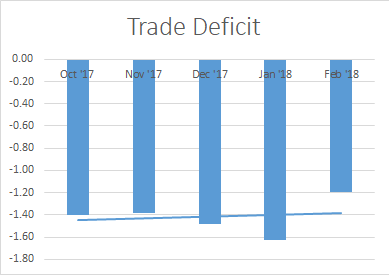 CAR SALES : Car Sales has Increased by a marginal rate of 0.83% year-on-year last month.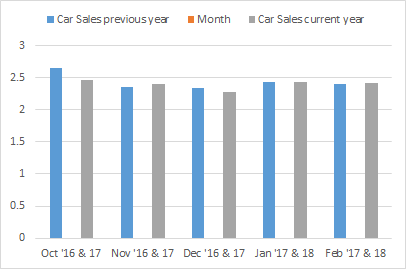 SENSEX VALUATION & CORPORATE EARNING TREND

Mid Caps and Small Caps has seen a correction of around 12-18% in last few weeks.

*As on 31st Mar 2018; historical data of Sensex and Nifty Mid Cap 100 is of last 10 years.

CORPORATE EARNINGS: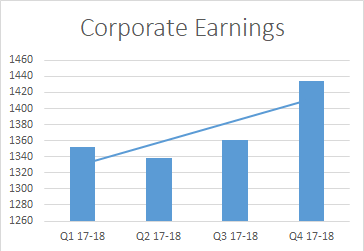 Overall the trend for corporate earnings looks to be upward from last few quarters. It is the highest since Q2 16-17