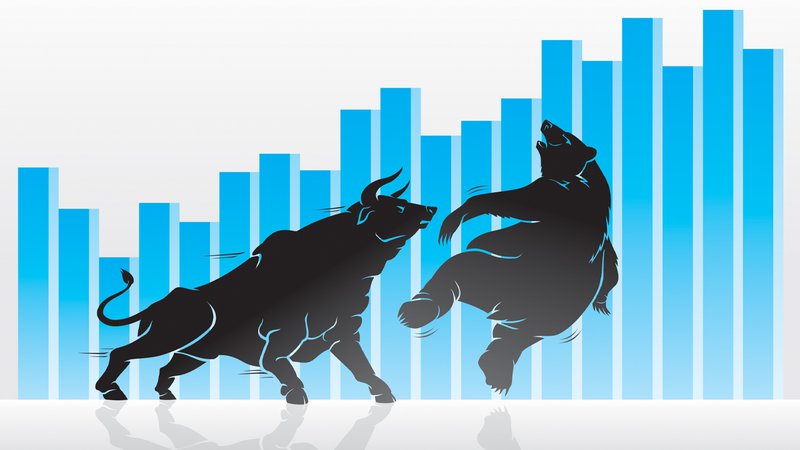 April month saw Sensex trading near its all time highs. However, mid and small caps continue to trade at more than 15% discount to their all time highs. While the valuation of large cap looks over-stretched, mid and small caps look a bit under valued. This is a kind of divergence which is pretty rare to see. Other flavour of the season are the general elections. There is always a risk of market instability due to any adverse outcome of the elections. Markets do not like uncertainty. As long as there is a stable Government at the center, we don't anticipate any adverse impact on the markets. However, if there is a weak Government that is formed at the center, there is a possibility of markets going down in the short term.   
FinAtoZ Strategy for Elections
Most of our moderate to aggressive portfolios have less than 75% allocation to equity at the moment. Out of 75%, there is a fair allocation to some defensive sectors like Pharma & IT. Further there is a good amount of allocation to mid and small caps that are a tad undervalued at the moment. Hence for majority of our portfolios there is no need to reduce equity exposure at the moment. If markets go down post the elections, we will be looking at increasing the equity exposure further based on the risk profile of the investor.
For portfolios where we have more than 75% exposure to equity, we have taken a call to reduce the exposure to bring it below 75% levels.
MACROECONOMIC TRENDS

Kindly refer to the below graphs for a summary of major macroeconomic parameters and their respective trends:
PMI
PMI India dropped to a six month low of 52.6 in March from 54.3 in February and missing market expectations of 53.9.
INFLATION  
Inflation in India rose to a five-month high of 2.86% in March from 2.57% in the previous month and slightly above the market expectations of 2.8%.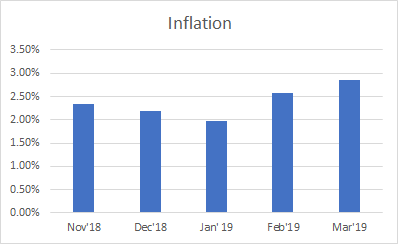 TRADE DEFICIT
India's trade gap narrowed to USD 10.89 billion in March 2019 from USD 13.51 billion a year earlier and above market expectations of USD 10.3 billion.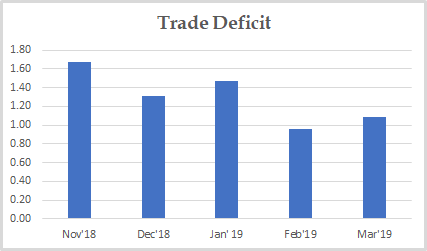 CAR SALES

Car Sales increased to 2.51 in March from 2.26 in February.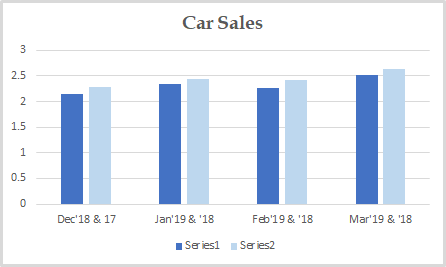 CORPORATE EARNINGS

The corporate earnings are slightly down this quarter compared to the previous quarter. We need to wait for few more months to ascertain if there is a confirmed change in trend.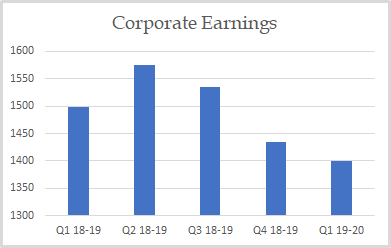 VALUATION

Markets are now looking a bit over-valued based on historical P/E and P/B basis.