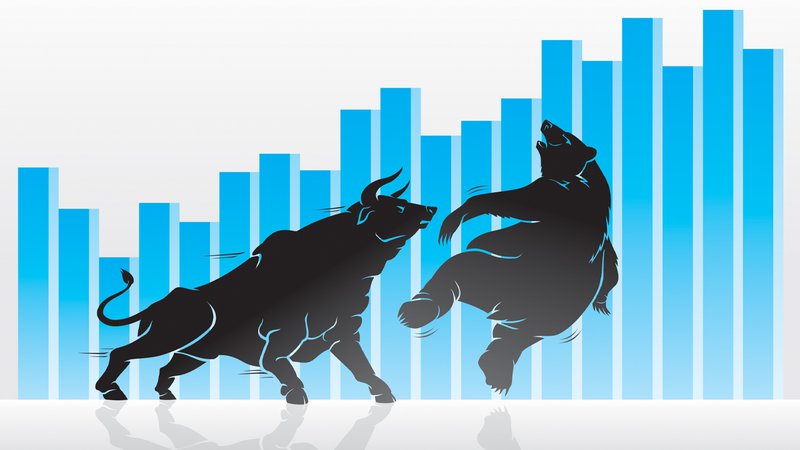 Despite slowdown in the economy and low GDP growth numbers, Sensex 30 continued to rally in the month of Nov. A deeper look however, tells a different story. The market rally was limited to only a few large stocks like Reliance Industries, HDFC etc. Broader markets did not participate in the rally. As a result most of the mutual funds (which are more broad-based) did not give good returns. This kind of divergence is happening since last 2 years. As a result of this divergence, select large caps look severely over-valued. However, most of the medium and smaller sized companies look under-valued. 
Major news for the investors
Securities Exchange Board of India (SEBI) has increased the minimum investment limit to 50 lacs. This will be effective from January 1st.  
RBI has increased the Peer to Peer max limit to 50 lacs instead of 10 lacs. An investor can now invest a max of 50 lacs across all P2P platforms. This is a positive development as the investor gets an alternate investment option to generate decent risk adjusted returns. More so at a time when overall economy is not doing that great. 
Let's analyse other major events happened in last month

The Gross Domestic Product (GDP) fell to 4.5% in the second quarter of the year 2019- 2020. It has declined by 0.5% from the first quarter which was 5%. And on a year on year basis it fell by 2.6%. The decline in GDP is due to a number of factors like slow down in private consumption, lack of credit. The government has taken many reforms to boost credit in the market. 
When all the experts expected the RBI's Monetary Policy Committee to cut the rates by 25-35 bps, but the MPC announced that it wouldn't cut the rates. After the five consecutive cuts, the repo rate will be unchanged at 5.15%. 
Car Sales continue to slide
Car sales went down in last month after a hike in the festive season. It declined by almost 8%. Auto brands continued with their downward trend despite its short term cheer in October due to the festive season. 
Increased inflows from FPIs
The foreign portfolio investments have increased after the reforms by the government to attract foreign investors. Foreign Portfolio Investments in November was the highest since April 2019. 
Why the Indian markets continues to rally, when the economic indicators are slowing down?
The rally was limited to just a handful of 10-15 very large stocks. There are 5000+ public listed companies which are not part of Sensex30. In-fact in 2019, the mid-caps and small-caps  have lost 4% and 9% respectively so far. 
MACROECONOMIC TRENDS

Kindly refer to the below graphs for a summary of major macroeconomic parameters and their respective trends:
PMI
PMI India fell to a two year low of 50.6 in October 2019.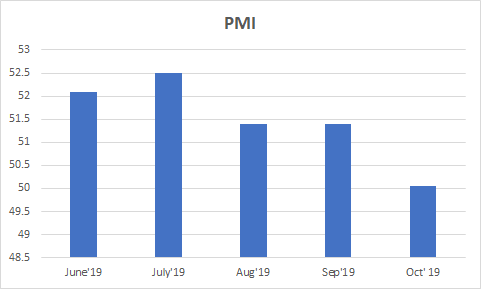 INFLATION  
Inflation in India increased to 4.62% in October from 3.99% in the previous month and above market expectations of 4.25%.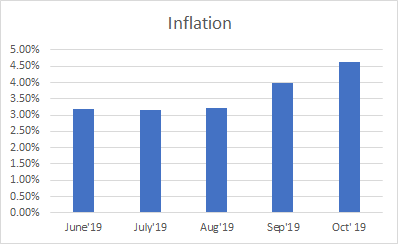 TRADE DEFICIT
India's trade gap narrowed to USD 11.01 billion in October 2019 and below market expectations of USD 12.05 billion.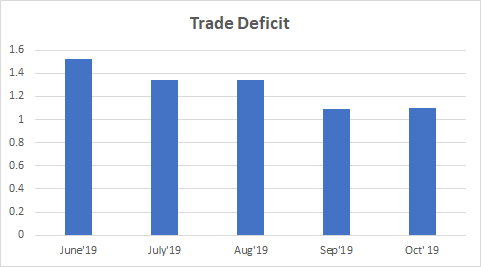 CAR SALES

Car Sales in India increased to 2.23 in October 2019 from 1.90 in the previous month.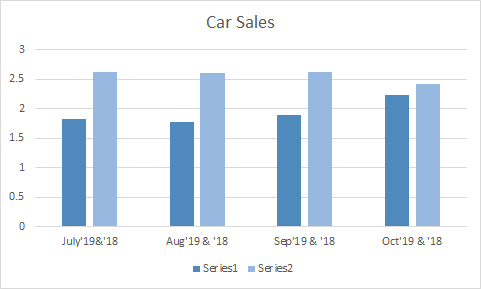 CORPORATE EARNINGS

The corporate earnings are showing a positive trend from the last quarter. This could be attributed primarily to the corporate tax rate cut announced by the Government.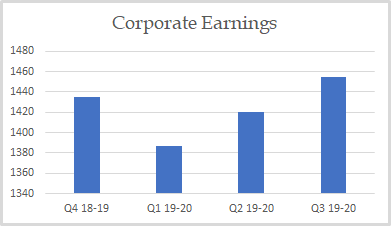 VALUATION

Markets are fairly valued on the basis of historical P/E basis. However, it is undervalued on a historical P/B basis.