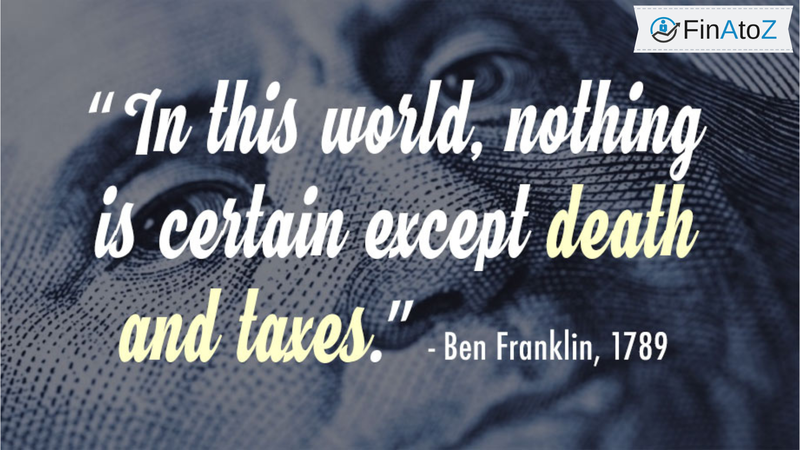 "In this world, nothing is certain except death and taxes"
         -    Benjamin Franklin
If there is a third certainty that we can add, it must be inflation. Not only India, but whole world also including developed economies are facing inflationary pressures. US is witnessing its highest inflation numbers in last 30 years at 6.2%. We all are already aware of the roof touching prices of petroleum in India and its snow-ball effect in the prices of essential goods. However, this inflation which has gripped the whole world has not come as a surprise to anyone. The bill was always due with so much liquidity infusion by all countries to push growth after Covid setback. The government still needs the money to push growth and what's their major source of revenue- Taxes.
Now, one may ask, why to discuss inflation, death or taxes which are in any case certainties and not in our control? This troika can derail any financial ambition. We cannot eliminate these three, but at least we can control their impact.  The first step is to create a reasonable financial plan which lays down the path to minimise their effect and help you to achieve your goals irrespective of the outside noise. A well created financial plan will calculate all important goals adjusted with inflation to give you the target amount. More importantly, it will:
-  Chalk out a strategy to beat inflation for long term goals.
-  Recommend investments which are tax efficient.
-  Suggest insurance so that none of the goals get derailed in absence of our dear ones.
Just planning will not help to control these factors. Execution is the key here. Absence of proper planning and good execution will certainly derail financial wellbeing of any family. Inflation and/or taxes will then have great power to haunt us. For example, if we are sitting on Fixed Deposits, we are reducing the value of our money as post tax returns are much lower as compared to inflation. The investment strategy must beat inflation to ensure financial well-being and harmony. 
Update on few of FinAtoZ approved products:
1. Liquiloans P2P:They have become the first Peer-to-Peer (P2P) company in India who has got its loan book audited by CRISIL. They are also in process to take ratings from ICRA. Apart from this, CRED has recently tied up with Liquiloans to distribute its P2P products for their customers. These two developments further add to its already growing stature in P2P space.
2. UNIFI PMS:Unifi has a clear orientation to look for growth at a reasonable price. They focus on earnings of the companies that they invest at all times. At the same time, the companies should have a reasonable valuation. They don't believe in growth at any price. This strategy has worked very well for our customers. In terms of returns, it is one of the top 5 PMS among more than 100 providers available in last 1 year. One of the things that we liked about UNIFI is its agnostic nature towards market cap of companies. It means unlike most equity products, UNIFI doesn't believe in some fix allocation towards large, mid or small cap. The moment they find reasonable value and good expected earning, they will invest irrespective of its market cap. Hence, we continue to believe that Blended theme of UNIFI is placed suitably to invest for a period of 3-5 years.
3. Buoyant PMS: A PMS which invest through cycles is very well suited for investors who wants to take calculated risk to grab market opportunities. With more active strategy, they change the risk dynamics of the portfolio that suits the market condition. This PMS is more suitable for our aggressive customers who are looking at higher returns and are fine with a slightly higher volatility.
New addition to the list of FinAtoZ approved products: 
1. Parag Parikh Conservative Hybrid Fund:This mutual fund is a good alternative to Fixed income instruments with slightly higher risk. The fund invests 75% to 90% in debt papers predominantly from State development loans & Sovereign bonds. Rest allocation is divided into dividend yielding stocks and REITs generating regular rental income. High credit quality along with income generating assets makes it a very interesting choice for medium term investments as compared to pure fixed income instrument.
2. Fractional Real Estate:The companies involved in this segment identifies suitable high value properties and invites investors to own a fraction of the same. The most common route used by these companies is to create SPV which will be used to purchase the property. Investors hold the securities in SPV and will receive monthly/quarterly rental income and some appreciation at the time of exit. The decision on these types of investments depends on the specific project's location and quality of tenant. We have done our due diligence with different companies over the past few quarters and have approved two solid players in this space. They are: StrataProp & Myre Capital. The minimum investments required in these products is 25 lacs. Overall return expectations from this category of products is around 12%  for an investment duration of around 5-6 years. Rentals (typically of around 8%) are paid to the investors on a monthly basis. So, this becomes a very good category of product for investors who are looking for regular cash flows from their investments. 
3. Varanium AIF: It is an early-stage fund focusing on Fintech Start-ups. As we all know that Fintech space is booming in India and many global VCs are investing in this space now. Varanium's team consists of CXOs from fintech companies and have experience in this space. Fund comes with a minimum investment requirement of 1Cr in 4 tranches over 10 months. As this fund invests in unlisted pace, the investment risk is on higher side.
We at FinAtoZ have a continuous endeavour to scout for new and better investment products for our customers. These product options help our advisors to curate a personalized investment portfolio for our investors. As a rule of thumb, we filter-out any product or strategy where we are not comfortable to invest even 5% of our investor's wealth. We believe such fancy products/strategies are a clear waste of time and focus!! 
Lastly, wishing you all a very happy Christmas and New Year 2022 on behalf of the entire FinAtoZ family. Stay safe, stay happy and remain committed to your financial well-being!!