GST Effect: Markets are expected to be volatile in the short term
The countdown has begun for the GST with just a few days to get rolled out from July 1. It (GST) has many positive factors for the industry but could lead to short-term disruptions as well. Many of the market experts hope for some correction in the market factoring GST into picture. However, the true impact will be uncertain as there is no precedent and will only be known when the new procedure starts. 
On the global front, the US Fed raised the base policy rate by an additional 25bps from 1% to 1.25%. They increased the rates despite recent weakness of core inflation and slower job growth. However, they remain confident that the US economy will recover with gradual adjustments in the monetary policy stance. Moreover, Fed officials expect to raise the rate once more before the end of 2017.
Meanwhile, RBI has kept the repo rate unchanged at 6.25% maintaining the neutral stance of monetary policy and citing the risks to inflation. The updated forecast of 98% of normal rainfall will cheer farmers and policy makers and help to control food inflation, which is a key input in the RBI's stance towards interest rates. 
Overall, we see volatile times ahead primarily due to GST. Any correction in the market from this level post GST can give us the opportunity to increase the exposure to equities in your investment portfolio. For now, we still continue to maintain a risk-averse strategy for your fresh investments into Long-term Growth bucket. We will patiently wait for the right time to move this portion of your investments to equity.  
MACRO ECONOMIC TRENDS
Kindly refer to the below graphs for a summary of major macro-economic parameters and their respective trends: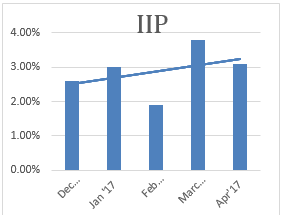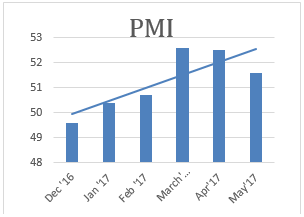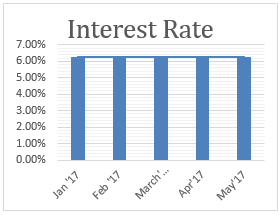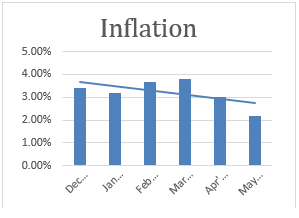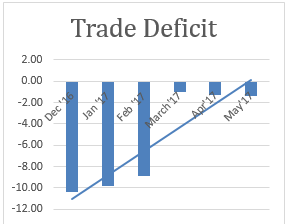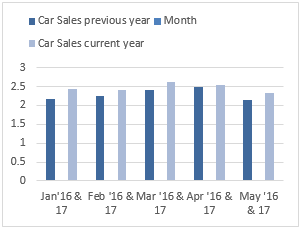 SENSEX VALUATION & CORPORATE EARNING TREND

 The markets are over-valued right now and are not supported by the fundamentals.

 *As on 23rd Jun 2017; historical data of Sensex and Nifty Mid Cap 100 is of last 10 years.
CORPORATE EARNINGS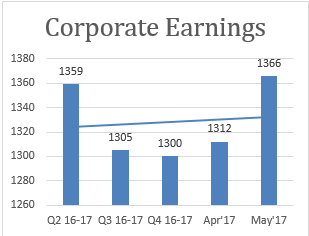 MARKET OUTLOOK AND CURRENT DECISION AS PER FTM

 Most of the asset classes remained volatile in the month of Jun, 2017:
1.      Debt/Bonds – Bond yield have increased by 0.15% in Jun.
2.      Gold – Prices of Gold increased by 0.39% in the month of Jun.
3.      Equity – Sensex increased by 0.49% in the month of Jun. 
Current zones as per FTM:

Returns comparison of FTM with Sensex over 1 year period
Changes made to your portfolio last month
We have not made any changes to your portfolio during the month of Jun, 2017.
We continue to have zero exposure towards Mid Cap & Small Cap Funds in your portfolio due to higher valuation in mid & small cap segment. We continue to maintain 25% of equity exposure in your monthly SIP's and remaining 75% will be in Debt funds with a zero exposure towards Gold. 
Invest right, Invest consistently & Invest for long term horizon. Happy Investing!