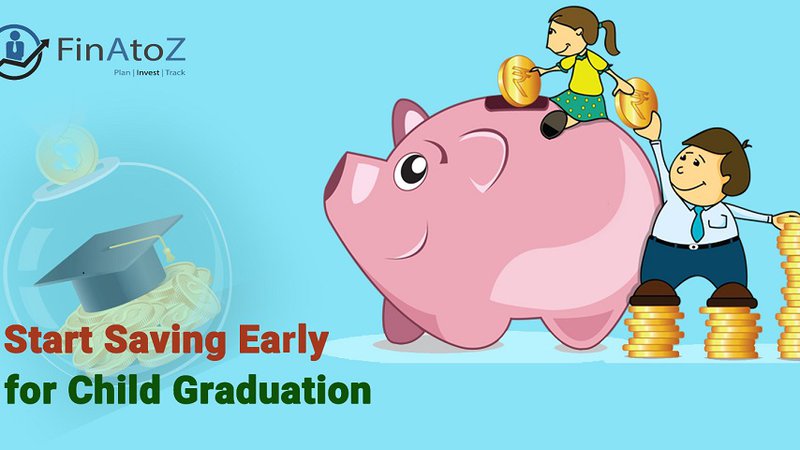 In our experience of conversing with parents of young children, we have observed that there is an increasing trend of parents being highly concerned about their child's education goals. 
With a strong desire to see their children getting the best, parents are leaving no stone unturned and spending huge amount of money on the up-bringing of their child. 
In a metro city like Bangalore, Pune, Delhi etc., there are multitudes of options available for young child to choose from. Right from costly International schools, private engineering colleges, up-market dance academies, and a host of co-curricular activities, options available are plenty. 
With so much to spend during the upbringing stage itself, parents often miss to see the big picture and forget to plan and save for their child's higher education goal.
Education Life cycle of a child:

This made us ponder upon this issue and inspired us to come-up with a series of informative articles regarding your child education goals. In our first article, let's understand why it is important for you to plan early for your child's higher education goals:

#1. Education cost is rising rapidly
Last year, tuition fee for undergraduate education in the IITs saw a whopping increase of 110% in a single year!! The fee was increased from Rs 90,000 to Rs 2 lakh per annum. Not just this, the fees got increased by 80% just 3 year ago in Apr, 2013. So, in-effect last five years saw annual fee in engineering colleges going up by more than 30% year on year.


If you consider general inflation, last five years saw inflation rising by around 7% per annum. Imagine the plight of parents who might have assumed this rate of inflation and planned for higher education of their children. Despite their planning, they would have missed the goal-target by a huge margin!!


Same is the case with other graduate and post graduate streams like Medical, MBA, Design, Architecture, Bio-Tech etc.

 
#2. Increase in career options 
Modern era presents multitudes of career options for your child. Gone are the days when parents used to think of only Engineering and Medical streams for their children. (Click here for some interesting career options for your child). 




With the advent of Google era, information is available freely and fairly. However, more information also means more confusion. It is very difficult to decide whether your child wants to become an academician, or get into sports or say plan for an early age start-up. Whether you want her to study in India or study abroad? What is the right time to plan and how to go about planning, when it is not even clear which direction she will go?

 
#3. Education Loan may not be great for your child's future

While education loan may act as a savior for parents, it may not be so good for your child for the following reasons:

a.Child may have to spend around 5 to 8 years of his monthly savings just to pay back the education loan. As a result, he gets late to plan for his financial future. And the vicious cycle continues.

b.If education loan is availed for graduation, child may be forced to take a job even if she may want to go for higher studies.

c.Availability of the loan is not uniform. It depends on the institution, type of course where your child gets admission to. Hence, it is not very reliable.

d.Education loan is not a good loan. The rate of interest offered by most banks is not cheap.

 
#4. Rising Aspirations
Modern living has made all of us highly aspirational. Every passing day throws up new options not just for you but for your child as well. Moreover there is enough peer pressure for your child to keep up with fast paced competitive world. 




It is important for your child to keep up with the changing times and keep herself abreast with all the latest happenings in the environment. However, at the same time it is equally important not to get carried away too much. 




Better way to plan is to save a substantial amount of money for future education goals of your child and then decide how much to spend from the remaining.

 
#5 Rise in foreign education options
The number of Indian students going abroad is growing at a faster pace than ever before. With an annual growth rate of 17%, more and more Indian students are flooding the universities of developed counties like USA, Canada, Australia, Singapore, Europe etc. 




There are host of new foreign destinations that have also emerged during the past few years. Countries like Germany and surprisingly China have become new sought after destination for students from India. 




At the same time, depreciation of Indian Rupee against USD has happened at a steady pace. Last three years saw Indian Rupee going down from around 50 to almost 68 against USD. This means that there is an increased cost of around 35% just on the basis of depreciation of Rupee in the past three years. Moreover, education cost in developed countries has also risen and there is an increased rhetoric to cut subsidies for foreign students thereby resulting in double whammy for the Indian students!!



Conclusion
Above discussion makes it pretty evident that you need to start early and plan well for your children education goals. Each year delay in starting the journey may cost you dearly. To understand this better, let's consider the following scenario:
Child Details: Rohit, Current Age 3 years
Education Goal: Graduation after 15 year
Current Cost: Rs. 25 Lacs
 

Now, if take a conservative rate of 9% growth in education cost, 25 Lacs will become around 90 Lacs in the next 15 years. To be able to reach this target, you may have to save the following amount on a monthly basis. This monthly investment amount is calculated on the assumption that your investment will yield an annualized return on 11% over the saving period.
 

As is evident from the table above, you may have to shell out almost 70% more money if you delay saving for your child graduation by just five years. So, it makes a lot of sense for you to start saving for your child future early.
 
Next is to understand how to go about executing this? Even if you are reasonably clear that you want to start saving early for your child's future, there are numerous products and options that are available. However, most of such products are either sub-optimal or need lot of tracking from your end. In our next article we will discuss about the approach that you should take. How you can choose right set of products. How you can reduce your time to track the performance of such products.

Stay tuned!!
blog comments powered by

Disqus